The golden finches get their name because of the yellow flowers that are shaped like birds that fly. In addition, there are Caragana, flying phoenix, flock bird, leopard whip and other aliases, is a small deciduous shrub of legume Caragana. The plant height is about 1.5 meters. The iron-brown trunk stands upright, the slender branchlets are brown or gray, the long branches prolapse, the stems have spines, and the skin has filiform exfoliation. Odd pinnate leaves with tiny leaves, leathery, dark green. One to two flowers are born in leafhoppers, butterfly-shaped, yellow with red blooms, and open from April to June.

Goldfinches are distributed in the sunny slopes of the hills and mountains in the Yangtze River Basin and North China, and are now widely cultivated as garden flowers. The golden quebra tree roots are vigorously twisted, the trunk is smashed with iron bones, and the soft branches are easily twisted and twisted. It is suitable for making wind-driven, cliff-style, jungle-style, root-style, root-style, stone-like, curved-dry, oblique-dry Different forms of bonsai, such as double and dry, must be shaped, cut, and used together with traction and other methods for comprehensive styling. This makes the bonsai not only old and simple, but also lush and full of vitality. It is also higher than the natural artistic realm. Before entering the fine pots, the Jinque bonsai can be piled in the clay tile basins with clean plain sand. After the animals have survived, they are initially modelled and rooted and then moved into the fine pots in the second or third year. The golden finches on the pot, transplanting should be carried out in the spring before germination, before planting to cut off the excess branches, cut off the roots of tearing, with wounds, cut and ask for smooth. It is forbidden to soak in water, otherwise it will inevitably die after rot. After the plant is poured, the root water is set once, and it will not be poured afterwards. After planting, the unplanted plants should be maintained on the leeward sunny place. The ambient temperature need not be too high, so that the roots of the sir, and the long leaves afterwards, in order to avoid excessive temperature, so that the plants germinate prematurely, resulting in "false living" phenomenon.

Gecko breeding commonly used sowing, ramets, cuttings, layering and other methods. Should be sunny, resistant to drought and thin, but fear of wetness and too shady environment. Its strong germination power, rapid growth, in the growing season should often pick up the heart, so that not only can make the leaves small, but also more pregnant buds, more flowering. Cut off branches that are too long and overly disturbed, such as beautiful bonsai, at any time. Each year before the spring sprouts, the plants are cut once more, and the weak branches, leggy branches, dead branches and other branches affecting the shape are cut off. The golden plover does not fear the sun, even if it does not have shade in the summer. However, if the water conference is rooted, too much fertilization will make the leaves too large and affect the viewing. Therefore, it is generally not necessary to apply additional fertilization. However, 0.2% potassium dihydrogen phosphate may be sprayed on the leaves to prolong the flowering period when the buds are formed. . In winter, keep indoors in a cool place or outdoor shelter from the sun. Every three years or so before spring sprouting pots once, basin soil should use moderate fertility, well-drained sandy soil.

Goji Berry is Chinese important "medicine food homology" functional genuine herbs. As the origin place and main producing areas of Chinese and world wide Goji berry, Ningxia Province has preponderant industry. Goji industry has been the important pillar in adjusting agriculture structure and transforming the economic growth pattern.

There are many problems in traditional Goji planting, such as non-standard planting, unstable quality, Goji low safety level, depending too much on chemical pesticide and fertilizer, polluting air and groundwater, delay ripening and integrating in corresponding cultivation techniques, low penetration of new technologies and extensive management. Our company began planting organic Goji berry from 2003, and has invested more than RMB 36 million. Using the mode of transferring land and subcontracting, we have established more than 75 hundred acres of organic Goji base in Zhongning, Haiyuan, Guyuan and Delingha, under the Good Agricultural Practices(GAP). High standard design, scientific management, standardize manufacture as organic standard from organic base choosing, plant breeding, planting, fertilizing, diseases and insect pests controlling, picking, to transportation, further processing, sale. We apply quality traceability system, mechanized farming, standardized management, proceeding operation, stoving and processing together.

Wolfberry Company mainly introduces Goji diseases and insect pests bio-control technology in technique, such as matrine, veratrine, Cynanchum komarovii, pyrethrum; also introduces modern high biological technology (natural biological and plant pesticides such as biological protective agent, fertilizer-making agent, soil purificant, ferment fertilizer, biological enzyme, Cynanchum komarovii), combining use "prevent", "tempt", "seal", "engineer", "change", "drug".Effective prevent and control Goji pests and diseases, achieve manufacturing "safe, effective, steady, controllable" high quality organic Goji.

Our company is the only enterprise internationally recognized organic food certifications by NOP, EU, JAS and China, is the birthplace of Chinese organic Goji berry.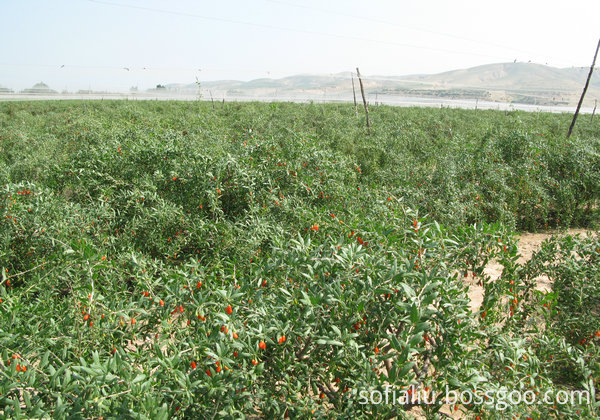 Wolfberry Company is the birthplace of Chinese organic Goji, is the only company planting organic Goji. Now we have more than 75 hundred acres of Goji planting Base, which are under organic planting standard, without using chemical pesticide and fertilizer. Their production mode is ecological, natural and safe. Products reach the North America, European Union and Japanese level including requirements in pesticide residue, chemical substances residue, residue of veterinary drug, which guarantee the quality from production source. Our base and plant have internationally/nationally recognized organic food certifications such as NOP, EU and JAS.

Our technological innovation team led by Professor brings Goji industry further in line with international standards. With the combining mode of industry, academia and research, our company established Goji technological center of Ningxia. There are 19 technological experts, including 12 senior title staff, 2 Doctors and 4 Masters. This team gathers many fields professionals such as Goji further processing, food engineering, automatic control and food analysis and verification, and make great contribution in defining enterprises standard, industrialization demonstration, cultivation of Goji further processing enterprise, organic Goji manufacturing practices and reaching international standard.

Please feel free to leave us message.
Any inquiry would be replied within 2 hours on working days!






Production Specification Sheet
| | | | |
| --- | --- | --- | --- |
| Product Name | Goji Berry | Country of Origin | Ningxia in China |
ANALYSIS

DESCRIPTION

TEST METHODS

Product Name

Organic Goji Berry

Form

Spindle and slightly shrinks

SN/T 0878

Color

Bright red or purplish red

SN/T 0878

Taste and Smell

Characteristic

SN/T 0878

Size

280granule/50gram
380granule/50gram
500 granule/50gram

160granule/50gram
220granule/50gram
Ungraded

SN/T 0878

Total bacterial count, cfu/ml

≤100000

GB4789.2

Salmonella

Absence

GB/T 4789.4

SO2

NMT 30

SN/T 0878

Moisture, %

NMT13

GB/T 5009.3

Pb, mg/kg

NMT 2.0

GB/T 5009.12

As, mg/kg

NMT 1.0

GB/T 5009.11

Cu, mg/kg

NMT 10.0

GB/T 5009.13

Pesticide Residue

Acetamiprid <0.2PPM;

Imidacloprid<0.2PPM;

Fenvalerate<0.1PPM;

Cypermethrin<0.1ppm

negligible with other pesticides

Negative

GB/T 19648-2006,

GB/T 200769-2008
Shelf life

12 months months if stored in a cool ventilated dry place

Package

4.54Kg/Bag, 4Bags/ Carton (10Pounds/bag,4bags/Carton);

5KG/Bag,4Bags/Carton

Storage

It should be stored under the dry and ventilated environment in original bag, the temperature no more than 20 ℃
Goji Berry

Goji Berry,Goji Berry Plant,Goji Berry Juice,Organic Dried Goji Berries

Ningxia Wolfberry Goji Industry Co.,ltd , https://www.nx-wolfberry.com